Thailand – the land of smiles! This Southeast Asian country has become the leading travel destination in the world thanks to the numerous attractions, amazing nature and versatile activities. There are literally millions of foreigners that travel to Thailand every year and a good percentage of them are interested in Muay Thai training. This is not a surprise given the fact that Thailand is the birthplace of this martial art that is mostly used as a fitness activity today. Those who have done some research probably know that there is more than one interesting training camp in this country, but if we take a closer look at all the things Scorpion Muay Thai camp offers we can understand why this camp is so popular.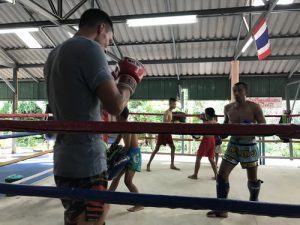 1.       Price
Whilst it is true that the price should not be the main reason why you choose some camp the fact is that Scorpion Muay Thai has excellent price for their classes and what is more important you get the most for your budget. They offer 4 hours of training each day.
2.       Location
Staying in Thailand without visiting some of the most beautiful beaches in the world is definitely a huge mistake. Luckily, Scorpion Muay Thai camp is located on the most beautiful island in Thailand – Phuket Island. The nearest beach is less the one mile away and you can use this place as a base to visit many other attractive beaches. The camp is very close to all the things you will need while you are there – stores, restaurants etc.
3.       Instructors/Facilities
Scorpion Muay Thai is known for the experienced trainers that work there. These expert instructors have experience with different types of students – men, women, kids, elderly, pros, beginners etc. They have developed different programs for different people. What all these programs have in common is the fact that they will significantly improve the health of every student. The facilities are clean and well-organized.
Scorpion Muay Thai camp is a place where you can practice Muay Thai with your entire family. In case they are not interested in this type of activity they can visit the local shops, restaurants or the beautiful beach.