It seems that thousands of people have finally discovered the health benefits of Muay Thai training in the last few years. This is obviously the reason why there are so many new Muay Thai camps in Thailand. Those interested in Muay Thai training in a camp in Thailand have hundreds of options. However, not all of these camps provide the same quality and some of them are much better than the rest. According to many online reviews and testimonials, Scorpion Muay Thai is one of the best Muay Thai camps in Thailand. But, what exactly makes this camp so popular among Muay Thai enthusiasts?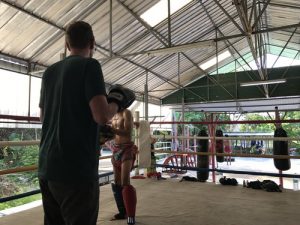 First of all, let's start by saying that Scorpion gym has staff that has experience, knowledge and staff that is always available for the students. The trainers found there are true professionals and most of them have experience in professional Muay Thai fighting. They are patient and helpful. The trainers provide suitable training instructions according to the student's level and the staff in general can help you not only with the training itself, but also with the exploration of the surrounding area by recommending beaches, restaurants and attractions.
Scorpion Muay Thai is located in one of the most beautiful places in Asia – Phuket Island and this is another big plus for this camp. It is very close to the local beach and to several natural and manmade attractions so you don't have to travel far to enjoy the beauties of this island. You can use the time between classes to enjoy Thai culture and the nature of Thailand.
Scorpion Muay Thai is a camp that treats all students equally. Men, women, local enthusiasts as well as foreigners are welcome in Scorpion gym camp. As previously mentioned, people who work there are true professionals and they are interested to teach students of all categories.
This camp also has all the necessary equipment for the training classes. So, it doesn't matter whether you want to accelerate your loss weight plan or to start building mass, you will have the equipment and trainers that can help you with your task.