Thailand is one the best beach destinations in the world. People from all over the world come to this country for fun, leisure and rejuvenation. The sun kissed white sand beaches and the tropical blue waters are an awe striking scene. Thailand also has huge mountain along with lush green dense forests for some wild adventures. There is something for all age groups and therefore Thailand never disappoints any tourist. The night life is much talked about among the young travellers.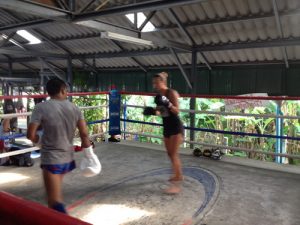 One more thing that separates Thailand from the other countries is Muay Thai. It is a combat martial arts for which was originated in this country itself and has become an international sport in the recent past. With the advent of Muay Thai many people wish to learn this sport and make it their career. There are many training camps with the state of the art facilities to imbibe the techniques of Muay Thai. However the best training camps are considered to be in Thailand. The reason is said to be the ambience and the atmosphere that is offered here.
All this attracts more and more travellers to come to Thailand in search of their passion for Muay Thai. Not only men but women also wish to learn this sport. There are many reasons linked to it. Some join for self defence, some for the love for the sport and some for fitness and health. Yes you read it right. Muay Thai is a great way to stay fit as it keeps the aspirant on their toes. One does a lot of physical activity while playing the sport and this helps to reduce the extra weight easily. Therefore it is very popular among women. People who travel to Thailand make sure they learn this sport before leaving for their home country.